Wizarding World of HP to Host Nov. 19th After Hours Event for Annual Passholders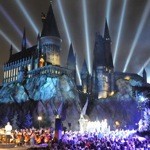 Nov 03, 2010
In celebration of the upcoming release of "Harry Potter and the Deathly Hallows: Part 1," a limited number of Premier and Preferred Annual Passholders will have the chance to enjoy two hours in the Wizarding World of Harry Potter at Universal Orlando after the park has closed to the general public on the 20th of November 2010. Inside The Magic reports:


From 8-10pm, those who RSVP in advance will be admitted to enjoy access to the Harry Potter and the Forbidden Journey, Flight of the Hippogriff, and Dragon Challenge attractions as well as the Three Broomsticks, Hogs Head pub and shops of Hogsmeade Village.
Attendees will also receive a free commemorative Wizarding World of
Harry Potter poster. In addition, a Gryffindor lanyard and exclusive
Annual Passholder pin will be available for purchase for $10.95 + tax.
For those Leaky readers with Premier and Preferred Annual Passes to Universal Orlando, you must RSVP at this link in advance in order to attend. Please note that admission does not include a showing of "Harry Potter and the Deathly Hallows: Part 1."