High Res Scans of Entertainment Weekly Feature on "Deathly Hallows: Part 1″ Online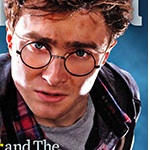 Nov 04, 2010
Even though the November 12th issue of Entertainment Weekly isn't set to hit newssstands until tomorrow, Leaky was able to obtain a copy and has full, high res scans of their expansive "Deathly Hallows: Part 1″ feature available to view right here in our Image Gallery.
On a related note, EW has released an extended excerpt from the "Harry Potter and the Deathly Hallows: Part 1″ feature that showcases quotes from actors Dan Radcliffe (Harry), Emma Watson (Hermione), and Rupert Grint (Ron). Excepts are as follows:

With the second-to-last Potter film about to hit theaters, the three stars open up about their decade in the spotlight, their final days on set, and what they've got brewing for the future.
Of course they knew it was coming. Yet it wasn't until the final day of filming that the three Harry Potter stars fully understood that the most significant chapter of their lives so far was ending. "Somehow, I wasn't prepared for how emotional it was' says Rupert Grint, who has played Ron Weasley for almost half his life. "It hit home how much it all meant to us."
After the trio finished their last scenes for Harry Potter and the Deathly Hallows this past summer, the crew asked them to sit down for a little going-away presentation: a video montage of images from their decade on set and goodbyes from the hundreds of artists"the makeup and costume teams, the set decorators and prop designers"who had watched them grow up. "The three of us were just in pieces by the end' says Emma Watson (Hermione Granger). "It was our lives played over on tape, and all these people that we've known, in this place where we'd spent more time than in our actual homes. It was overwhelming." Not least of all for Harry Potter himself. "I was sitting there thinking, ˜What am I going to do without all these people that I love and who love me?' " Daniel Radcliffe says. "I will miss them all very, very much."
For tens of millions of Potter fans, the long goodbye will begin this month. Deathly Hallows, the seventh and final novel in J.K. Rowling's record-obliterating book series, has been split into two films. Part 1 opens on Nov. 19. Part 2 opens next summer, on July 15. (The studio recently scrapped plans to release Part 1 in 3-D, citing quality concerns, but will release Part 2 in both formats.) The cultural and financial impact of the movies has been nothing short of staggering. The previous six films have earned more than $5.4 billion worldwide, making Potter the highest-grossing global franchise in history, and have put the series within a wand's length of overtaking the Star Wars films domestically. "It's so satisfying' says Warner Bros. Entertainment president Alan Horn, who snared the Potter rights not long after he took over the studio (which shares a parent company, Time Warner, with EW) and who recently announced his plans to step down next April. "Not only has it been good for our company and made a lot of money and all that, but it's been a wonderful creative journey. I think we converted the books to film respectfully and honored them."
The decision to halve Hallows for the screen frustrated some fans, who accused the studio of corporate greed, but the upside, at least, is that much more of Rowling's final tome will make its way into multiplexes. The life-or-death showdown between Harry and Voldemort (Ralph Fiennes) won't happen until Part 2, naturally, but that doesn't mean this first installment is sleepy. In Part 1, Voldemort and his Death Eaters have taken over the Ministry of Magic, and are on the hunt for Harry. Forced to live as fugitives, far from the protective walls of Hogwarts School of Witchcraft and Wizardry, Harry, Ron, and Hermione must discover and destroy the remaining Horcruxes"objects that hold pieces of Voldemort's shattered soul. Friendships fray, commitments are tested, and Ron and Hermione's relationship¦evolves. "The emotional stakes are more complex and intriguing' says director David Yates, who also helmed the previous two Potter films, The Order of the Phoenix and The Half-Blood Prince. "You put these characters in the big, wide world and have them pursued by people who want to kill them. Suddenly, they seem very fragile."
The three stars are now heading into the big, wide world too. They still face another nine months or so of premieres and press interviews, but their days within the protective walls of Leavesden Studios outside London, where all the Potter movies have been filmed, are over. "It has been weird adjusting to not going in every day' says Grint, 22, the oldest of the bunch. "It's been nice, the freedom, but a bit strange." For the adults who've watched them grow up and now need to let them go, it's a bit poignant too. "I've known them for 11 years' says producer David Heyman, who first spied a young Radcliffe in the audience at a performance of Stones in His Pockets in London's West End and thought he might be right for Harry. "I think they'll all be fine, they've got good heads on their shoulders, but if anything happens, they know that I will be on a plane or train, that I'll be there for them. A lot of people feel that way."
Journalists have watched them grow up too, and those of us who've written about Potter all these years have our own memories and observations. Now, with the end of their journey at hand, it seems an ideal time to look back"to recall a decade's worth of firsthand encounters with these young actors, to remember who they were, and to see who they have become.
Emma Watson
Movie acting didn't exactly wow her at first. "It's not as glamorous as I thought it would be' she said, sitting in her dressing room at Leavesden, wearing her Hogwarts uniform. "I mean, it's a lot more complicated, a lot longer days, more work." Watson had just turned 11 at the time, the youngest of the three stars, and was then finishing The Sorcerer's Stone. She wasn't complaining, really, just stating the obvious. Prior to landing the role of Hermione, she'd never acted in, or auditioned for, a single film role. During the long walk from the Diagon Alley set back to her room for a tutoring session, she chatted amiably about her character ("I reckon she's very, very bossy"), the audition process ("Eleven auditions! That's a lot. Rupert only had to go through three"), and, of course, her costars ("They're very well-mannered, as far as boys go"). She was wry, smart, eager to discover the world. "I'd love to go to America' she said. "I know quite a bit about it, actually. It sounds really fun."
Rupert Grint
The 12-year-old Grint's assessment of why he was cast as Ron Weasley was pretty simple: "I have ginger hair." That lack of pretense frequently charmed his adult costars. At an early table reading for The Sorcerer's Stone, Grint was seated next to the late Richard Harris, who was playing Hogwarts headmaster Albus Dumbledore. In the scene, Dumbledore is addressing the student body in the Great Hall in a rather grand way. When Harris finished, Grint turned to the legendary actor. "That was quite a good reading' he said. "I think you'll be quite good in this part."
Because of his mellow demeanor, it hasn't always been easy to grasp what Grint has been thinking about his Potter experience. "Rupert's just delightful, and in his own world' Bonham Carter says. "He's a bit like Luna Lovegood, you know? He's on his own moon." Off screen, he was just as enigmatic. Rather than buying, say, a Ferrari when he got his driver's license, in 2007 he bought an ice cream truck for transportation, and he has quietly built a rabid, if eccentric, female fan base. Instead of getting women's underwear sent to him in the mail, he says, "I get a lot of pajamas. And origami."
Daniel Radcliffe
Radcliffe has never been afraid to take risks or to risk vulnerability. Sitting in a small trailer near the exterior Privet Drive set when he was 11, he told the story of his first audition ("I was totally petrified") and how he reacted when, many months and auditions later, he found out that he'd landed the most coveted role in the world. "I was in the bath at the time' he said. Producer David Heyman had phoned the house. Radcliffe could hear his father on the phone in the other room, but couldn't hear what he was saying. "My dad came running in and said, ˜Guess who they want to play Harry Potter?' and I started to cry. It was probably the best moment of my life." At the time, Radcliffe, like Grint, was into WWE wrestling and music (R.E.M., Stereophonics). He wanted to learn to play the drums, and liked writing songs. ("I'm not very good at it, but I like writing them.") And he said he seldom got tired because he drank "so many Diet Cokes and ate so many Mars bars, I'm usually just totally hyper."
As he grew up, Radcliffe kept the fame from going to his head. In all our interviews through the years, he always made am point to discuss where he felt he'd fallen short on the previous film and what he was working to improve on the current one. He didn't shirk his responsibility as Harry Potter, but he also didn't let it build a cage around him. "Generally speaking, anybody I meet out in the world is chilled out and perfectly polite' he says. "It's people's camera phones you have to watch. I don't want to turn up on everybody's bloody Facebook page. It's around enough, my face."
It's a miracle his other body parts didn't make an appearance on the Web when, at 17, he agreed to appear naked on stage in the psychological drama Equus. "Part of me wants to shake up people's perception of me' he said at the time. Both he and the Potter filmmakers took the nudity in stride. "What's the worst that can happen? Someone takes a picture of his willy?" Heyman said then. "So what? We've all got one"or have seen one." Still, it was a daring decision, and one Radcliffe clearly got a kick out of. In a scene in Hallows"Part 1, Harry, Ron, and Hermione are on the run in London and enter a café. Hanging on one wall in the corner of the café is the promotional poster for Equus. "It's my own little in-joke to myself' he says.
His refusal to let fear prevent him from doing that play also hinted at what Radcliffe's post-Potter career might look like. Now 21, he's preparing to star in his first stage musical, How to Succeed in Business Without Really Trying""I'm sure I'll be absolutely terrified in a few months' time, but at the moment I'm very excited' he says"and he's shooting the eerie ghost story The Woman in Black. Harry Potter is beginning to slip into his rearview mirror. "It's key for me to keep working' he says. "Focusing on other things rather than just moping around the house." He's going to miss the boy wizard, though. "I already do, slightly' he says. "It's very rare that you get to burst through the surface of water surrounded by a ring of fire. I took that for granted for quite a long time."