Photos, Interview Quotes and Video from Emma Watson's Marie Claire Cover Photoshoot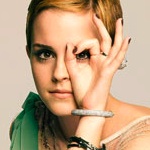 Nov 05, 2010
Emma Watson (Hermione Granger) is on the cover of the December 2010 issue of Marie Claire (US) and we now have some brand new photos from the actress' cover shoot in the Leaky Galleries. The magazine's website has additionally posted an extract from its interview with Emma, as well as a number of video clips and has compiled a Style Evolution Over the Years. The actress spoke about finding her feet in her first year at Brown University:
"I found a great group of girlfriends, and now that I know how things work and what the professors expect, I'm really excited about going back for my second year, because I feel this time I can relax and enjoy it."
Watson is deeply grateful for the way she's been treated by her peers. "Brown has a real sense of community, and people are very protective of me," she said. "They really look out for me; they want me to feel like I'm part of it. I threw my 20th birthday party at Brown, and I didn't even have to say to anyone not to put pictures on Facebook. Not a single picture went up. That was when I knew I'd found a solid group of friends, and I felt like I belonged."
Watson said she "gave everything she could" in her role as Hermione Granger and talked about how she really discovered her passion for performing by a poetry recital competition."I loved finding out the real meaning of all the words, and how I could say them, and what I could do with my voice, and how I could get the audience to hang on my every word," she explained. "I just got really into it." More quotage:
But her decision to go after the role was as audacious as her chances were unlikely, given her lack of acting experience. Even as a 9-year-old, however, Watson manifested a near-obsessive commitment to her goal. "I started working on the audition at 9 in the morning and didn't stop until 5 in the evening," she recalled. "The tape was just me doing the same thing hundreds of times over, until I got it exactly right. I was just amazed at my stamina. The grown-ups said, 'We had to stop you; you wanted to keep going.' I've always been like that; I give 100 percent. I can't do it any other way."
You can see the images from the cover photoshoot here and find the videos, full extract and more on the Marie Claire website at this link. The issue will be on newsstands on the 16th of November.