Download the "Deathly Hallows: Part 1″ Video Game's Main Theme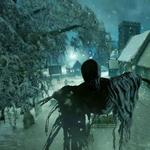 Nov 08, 2010
With fewer than eight days to go before the release of the EA and Warner Bros. "Harry Potter and the Deathly Hallows: Part 1″ video game, you can now download the game's Main Theme on the official video game website. The soundtrack was scored by the BAFTA award-winning composer James Hannigan.
The website also has a new quote from Hannigan about his experience composing for the game:

"Composing for the recent Harry Potter games has been a hugely satisfying experience for me, so I was delighted to be asked back to work on Harry Potter and the Deathly Hallows' says James Hannigan. "Once again, we recorded The Philharmonia Orchestra at Air Studios in London and the players performed magnificently well, as they always do."

James writes his score specifically to match the gameplay and this time he was facing a whole new world of danger and adventure.

"Stylistically, the music itself has darkened considerably for the new game, largely following similar changes in the underlying story ' but is not without its lighter moments' explains James. "A fresh approach to gameplay has also necessitated an interesting and, I hope, effective approach to the game's interactive music."
You can download the game's Main Theme at this link. The "Harry Potter and the Deathly Hallows: Part 1″ video game from EA
will be compatible with the PlayStation 3, Xbox 360, Wii, Nintendo DS,
Windows PC and mobile devices. The game is due to be released in the US on the 9th of November and in the UK, India, France and Australia on the 19th of November, 2010.