StarKid Potter to Perform at LeakyCon 2011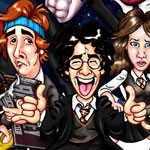 Nov 09, 2010
We are thrilled to announce that StarKid Potter will be performing LIVE at LeakyCon 2011 in Orlando, FL. The following are slated to appear:
Performer (role in AVPM/AVPS):
Darren Criss (Harry Potter/co-creator of AVPM/AVPS)
Joe Walker (Voldemort/Umbridge)
Bonnie Greusen (Hermione Granger)
Lauren Lopez (Draco Malfoy)
Joey Richter (Ronald Weasley)
Brian Holden (Lupin)
Tyler Brunsman (Cedric DIggory/Lucius Malfoy)
Jaime Lyn Beatty (Ginny/Rita Skeeter)
Nick Lang (Mr. Weasley/co-creator of AVPM/AVPS)
Matt Lang (co-creator of AVPM/AVPS)
Julia Albain (Crabbe)
Joe Moses (Severus Snape)
Please note that all cast appearances are dependent on professional work commitments!
The StarKid crew will be performing "A Very Starkid Event" featuring singalongs of their music, as well as taking part in a question-and-answer session and panel. This is a special event that is an add-on to registration and will be $20. For now, only full LeakyCon registrants will have access to this event; if there is still space for this event in February, we will open it up to day pass holders. (Rock Star registrants may choose this as one of their "keynote" events that comes with their pass; special seating applies.)
Starkid is the theater group behind the YouTube sensations "A Very Potter Musical" and "A Very Potter Sequel." The spoof Harry Potter musical was an instant, global hit, collecting tens of millions of views on the world's most popular video site. You can catch up on all their work – including the trailer for their upcoming original musical, STARSHIP, at their YouTube channel or by following them on Twitter. One of its founding members, Darren Criss, debuts tonight in a starring role on the hit FOX musical, GLEE.
Dates and times, as well as tickets, will be available shortly!
LeakyCon 2011 will take place July 13-17 in Orlando, FL. Click here for more!