USA Today Profiles "Harry Potter" Trio's Transition into Adulthood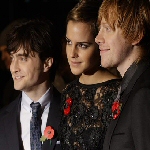 Dec 01, 2010
USA Today has a new article about the Harry Potter trio and their future plans now that they are transitioning into adulthood.
Daniel Radcliffe (Harry), Rupert Grint (Ron), and Emma Watson (Hermione) filmed their final scene together over the summer. Grint commented on how anticlimactic it felt filming the final scene of the franchise.
"It's been such a long time," Grint says. "And it was such a random little scene. I was soaking wet. The three of us jump through a fireplace on a crash land, and that was it. It felt like it should be ending on something a bit more meaningful, but that's how it was."
Radcliffe talks about his next two projects: a film, the Woman in Black, which he's currently shooting, and the Broadway musical How to Succeed in Business (Without Really Trying). The play will open in February.
"I'm the first person to play the role this young," he says. Previously, Finch has been played by Robert Morse and Matthew Broderick. "I think it adds a dimension when someone who's playing it is actually as young as the character," says Radcliffe, who has put in hours of singing and dance training. (In his spare time, Radcliffe is a music aficionado and plays the bass.)
The actor relishes playing someone as "manipulative and conniving and almost Falstaffian" as the ambitious Finch, a character who is light-years away from the idealistic and heroic Harry Potter.
"Everything Finch does is morally reprehensible," he says. "But you kind of back him. How to Succeed in Business is about somebody who never lets his morals get in the way of his ambition."
Watson will continue her studies at Brown University in Rhode Island, but she is also eager to dabble in different activities, including theatre.
"I haven't been a stage actress. It really is a different ballgame. People kind of expect that I should be incredibly confident, but no, this is not what I'm trained in.
"If I'm in front of a camera, I'm very comfortable, but to be on a stage, you can't do a second take. You can't go back. It's frightening, but still, I like the adrenaline of knowing you get one shot. And the energy you get from a good audience, if they're really into it, is like nothing else."
Meanwhile, Grint is taking things slowly, "reading scripts and happily working on his golf."
"I'm just being a bit patient and waiting for the right thing," he says. "I'm not in a real rush. This last shoot was more than a year and a half and I'm pretty exhausted, really. Now that I'm finished, there's a real sense of freedom."