PotterCast 215: Doodle on the Bed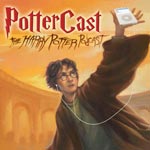 Feb 11, 2010

Our 215th episode of PotterCast, our Harry Potter podcast,
has now been released for your listening pleasure. This week, the show kicks off with news on the many awards for the "Half-Blood Prince" film, WWoHP job search, Alexandre Desplat composing "Deathly Hallows: Part One," and an award for actor Michael Gambon (Dumbledore). Next, Bit by Bit uncovers more about the goings on at Malfoy Manor, when the Trio is held captive by the Death Eaters. This discussion goes on to cover Wormtail's final moments, the flash of Voldemort through Harry, and the final brave act of Dobby, the House Elf. Princely Pieces follows, with talk of the the rest of the Diagon Alley trip, Draco's secret rendezvous down Knockturn Alley with Bellatrix and Greyback, and their eventual trip to Hogwarts. Finally, the show wraps up with news on how to make video voice mails, some emails from readers, Frak talks The Lovely Bones film, and much more.
As a reminder, the LeakyCon DVD, which will be available to
pre-order soon, will also include all wizard rock performances from our
conference. If you like live wizard rock, be sure to reserve your copy
of the upcoming LeakyCon Live Album of the wizard rock live shows at our LeakyCon 2009 conference. To listen, just hit the "Play" button on the right side of the page (–>), or use iTunes, or direct download.
style="padding: 7px; background-color: #ffffff; font-family: arial,helvetica,clean,sans-serif; font-style: normal; font-variant: normal; font-weight: normal; line-height: 1.22; font-size-adjust: none; font-stretch: normal;">"Look At Us Now"
RT: 72:35
Producer: John Noe
Also, special thanks to our ever-vigilant mods for monitoring the live PotterCast recordings.
LeakyCon 2011: A Harry Potter Conference in Orlando!
"Harry, A History" Website
Jingle Spells 3
PotterCast Vlogs
Podcast Alley
Digg
Remember you don't need an iPod to listen. Listen easily on iTunes, which you can download and install here, by clicking here to listen, or you can just use the streaming Flash player at PotterCast.com or just on the right side of this page. Discussion of the PotterCast is right here. Enjoy!
---
Leaky's Harry Potter Twitter list is the most exhaustive collection of news and official Harry Potter information in the world. Be sure to follow it today!