New Wizarding World Images; Ford Anglia in the Park?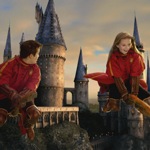 Feb 11, 2010
Orlando United has a few new images online from the Universal Orlando Resort where the Wizarding World of Harry Potter theme park is under constriction. Of interest in these new photos, available to view right here, is what appears to be a replica of the Ford Anglia vehicle seen in the Harry Potter films. The series of images also feature views of workers putting additional details on the structures, unloading various scene dressings and other materials for the attraction, as well as a few gorgeous shots of the castle itself. Our entire collection of Wizarding World photos can be found in our Image Galleries right here.
The theme park is slated to open Spring 2010.