Actors in the News Weekly Roundup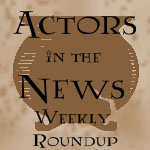 Feb 21, 2010
It's been a busy week for the Harry Potter actors, between charity events, film releases and stills, competitions and many an award ceremony. Thanks to our Order Partner, RupertGrint.net, we can confirm that "Cherrybomb" – which stars Rupert Grint (Ron Weasley) in a leading role – will be released in UK cinemas nationwide on the 9th of April this year. As you may remember, a few weeks ago we told you that another of the actor's recent projects, "Wild Target," will be released on the same day.
Additionally, Rupert Grint has donated a painting of a butterfly to a charity auction. Grint is one of over 40 celebrities – including footballer Theo Walcott, the band Coldplay and television presenters Fearne Cotton, Gethin Jones and Holly Willoughby – to have contributed to the auction, which will benefit Keech Hospice Care. The butterfly theme was chosen to "represent the beauty of all lives, however short they may be" and the paintings will be on display at Stockwood Discovery Centre in Luton from the 1st to the 29th of March. The auction will take place on eBay between the 19th and the 28th of March. You can find more information about the auction at this link. Thanks again to RupertGrint.net for the heads up!
We have more news about Emma Watson's (Hermione Granger) new collection with fair trade clothing company People Tree as Fairtrade Fortnight 2010 begins tomorrow, the 22nd of February. Thanks to Order Partner Emma-Watson.net we can let you know about a new competition launched to celebrate the "Love From Emma" collection and Fairtrade Fortnight, in which residents of the U.K. and Ireland can enter a competition to win a signed tote bag from the line. To take part in the competition, you must be registered as a Friend of Cafédirect and enter by the 28th of February. You can enter the competition here at the Cafédirect website.
In related news and also thanks to Emma-Watson.net, we can tell you that People Tree have donated "two special packs" of Emma Watson's new line for use in Wear Fair fashion shows. People & Planet are an organisation dedicated to promoting and supporting student action on world poverty and the environment and are currently challenging students in U.K. schools and colleges to put on a Fairtrade Cotton fashion show by the 23rd of May 2010. The winning group will receive both a bundle of clothes by Annie Greenabelle and £500 worth of People Tree vouchers. More information about the competition can be found here.
Our galleries have been updated with lots of brand new pictures of promotional material, the first official film stills and stills from the trailer of "Remember Me," in which Robert Pattinson (Cedric Diggory) stars in a leading role alongside Pierce Brosnan and Emilie de Ravin. The film will be released on the 11th of March in Australia, Belgium, Greece, Malaysia, the Netherlands and Russia, with its worldwide release spread over the following two months, including a U.S. release date of the 12th of March and a U.K. release date of the 2nd of April. You can find the Robert Pattinson gallery updates at this link.
Photos of promotional material and screencaps of a scene in new independent horror film "13 Hours," which stars Tom Felton (Draco Malfoy), are also now available in our galleries.
The Orange British Academy Film Awards will be shown tonight at 9pm GMT on BBC One. "Harry Potter and the Half-Blood Prince" has been nominated for two BAFTAs, for Production Design (Stuart Craig and Stephenie McMillan) and for Special Visual Effects (John Richardson, Tim Burke, Tim Alexander and Nicolas Aithadi). Members of the Harry Potter cast have attended a number of pre-BAFTA parties, photos from which can now be found in our galleries. Bonnie Wright and Bill Nighy (Rufus Scrimgeour) attended the British Airways and BAFTA Silent Picturehouse Event, while Wright also was at the Lancome and Harper's Bazaar BAFTA party and the Finch & Partners 2010 pre-BAFTA Party.
In further promotion for the approaching release of Tim Burton's "Alice in Wonderland," Helena Bonham Carter (Bellatrix Lestrange) has appeared on U.S. talk show, "Late Night with Craig Ferguson." You can watch video clips of the interview in our Leaky Video Galleries; the clips are in two parts and can be found here (Part One) and here (Part Two). Screencaps are also available here in our galleries. Helena Bonham Carter also attended an "Alice in Wonderland" fan event alongside other members of the film's cast and you can find photos from the event in our galleries.
Lastly, The Guardian reports that actor David Tennant (Barty Crouch Jr.) has been cast as the lead in a new four part BBC One comedy drama, "Single Father." Tennant's character has recently lost his partner, so is left to raise four children whilst discovering that he has fallen for his best friend's wife. Filming will begin in Glasgow in March.