New Images of Signs at Hogsmeade, Rumored Costume Choices for Wizarding World Staff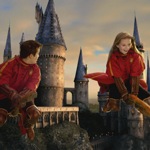 Feb 22, 2010
There are a few updates to bring you today regarding the continued construction at the Wizarding World of Harry Potter theme park at Universal Resorts Orlando. Thanks to BrianOrndorf.com, new images of the Hogsmeade areas of the park show us a plethora of new signage now hanging before the shop fronts which read "Tricks & Jokes" outside Honeydukes, and shops which appear to be named "Spintwiches" and "Tomes and Scholls." These images and more are part of our ever expanding Wizarding World section of Leaky's Image Galleries.
On a related note, new rumors have hit the web which relate more about the possible costumes Wizarding World employees might wear at the park. Screamscape reports:
It seems some of the first costumes have been put on display at Universal's wardrobe facility and they are said to be quite detailed and impressive. Amongst the costumes on display were those for "Hogwarts Students" as well as the "Dragon Handlers", which is what they are calling the ride ops on Dragon's Challenge. Apparently the costumes were all made to JK Rowling's specs¦ though one insider has already commented that JK must have never visited Orlando in the summer, because some of the outfits may end up being a bit too much to handle in the hot muggy summers.
The post goes on to relate more about the many kinds of wands which are rumored to be available at the Olivander's Wand Shop attraction. Quoteage:
We've also heard quite a bit about Olivander's Wand Shop. I'm told that over 20 actors have been hired to act as the shop keepers, and have been told that they will be given a "wand bible" written up by JK Rowling to memorize, detailing the names and descriptions of around 400 different wands. I've been told that the various wands up for sale will range in price from $25 up to $150 per wand. Apparently the more expensive your wand¦ the more things it will actually be able to do. For example, some wands are rumored to have a light up tip if activated the right way. Other wands are rumored to have uses beyond the park, possibly being Bluetooth enabled or allowing for you to plug them into your PC and download some special functions into them from the internet. If true, one such wand is said to work as a TV remote control.
While these are indeed interesting development, this information falls squarely into the rumor category until official word comes from Universal.
The Wizarding World of Harry Potter is slated to open this Spring.