UK Air Date for Dan Radcliffe's Inside the Actors Studio Appearance; BBC Radio 2 "Deathly Hallows" Segment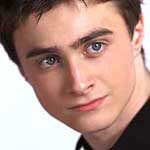 Feb 22, 2010
Thanks to our Order Partner DanRadcliffe.com, word has now come of a UK broadcast date for the Inside the Actors Studio episode featuring actor Dan Radcliffe (Harry Potter). As readers will recall, US cable television network Bravo first broadcast the interview with the young actor in 2008. This Tuesday, February 23rd, SkyArts (and SkyArts HD) will broadcast the episode at 8pm GMT, with a repeat screening the following day at 9am GMT.
On a related note, The BBC Radio 2 program David Puttnam's Century of Cinema is set to feature "an exclusive on-set visit to Hogwarts, and contributions from the production team behind the most successful movie franchise ever: 'Harry Potter.' " The information continues:

Brian also visits Leavesden Film Studios to talk to the team behind the Harry Potter movies. Guests include producer David Heyman, Creature & Make-Up Effects Designer Nick Dudman, and Production Designer Stuart Craig.
This episode will be air at 10:30pm GMT on BBC Radio 2.
Thanks again to DR.com!