March Featured Crafter of the Month: Pren Wilcox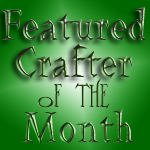 Mar 01, 2010
Our Crafty Witches and Wizard have chosen crafter Pren Wilcox, a.k.a archerpren, as March's Featured Crafter of the Month. Pren has used her talent with sewing and knitting to produce crafts such as a hand sewn Beauxbatons costume, a Golden Snitch ornament, a Fereverto charm and some Shrinky Dink stitch markers. An interview between one of our Crafty Witches and Pren has already taken place and will be up on the Crafty Witches and Wizard YouTube channel soon.
More crafts by Pren can be found at this link and you can congratulate her here in Pren's thread at the Leaky Lounge.
Nominations are now open for April's Featured Crafter of the Month and will be accepted until the 11:59pm EST on the 15th of March. If you would like to nominate a crafter to be featured next month, email crafts@the-leaky-cauldron.org with the crafter's name, as well as links to their work. More information on the nomination process can be found here.