Oscar-Nominated "Half-Blood Prince" Cinematographer Delbonnel Talks Potter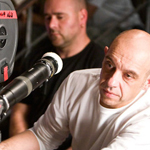 Mar 01, 2010
As part of its Nominee Questionnaire, Oscar.com has a new interview online with Bruno Delbonnel, who has been nominated for an Oscar for Achievement in Cinematography for "Harry Potter and the Half-Blood Prince." The cinematographer – who has worked on "Amélie" and "Across the Universe" – discusses his childhood dreams, his decision to switch from directing to cinematography and the hurdles in his career, alongside discussion of "Half-Blood Prince" itself. In response to a question about the biggest challenge Delbonnel faced whilst working on the film, the cinematographer said:
[It] was to be as good as the previous cinematographers who worked on HP (…) but different. Some of the sets are there since the very first Potter. How could I light them in a different way? This question brought another one based on the series itself. It was Potter number six, the story was less about the big fights than the relationships between the characters. Nevertheless the drama is still there and I thought it would be interesting to have those very intimate stories amidst this very dark mood. As if the school was a dark character. That's when I suggested to go for this (again) dark moody variations of grays.
Delbonnel also spoke of the "technical challenge" approaching the cave scene:
I wanted to have some kind of 'dynamism' with the light. The scene is quite static in front of the crystal bowl on an island which was not that big. I thought it could be interesting and more dramatic if the light was floating, circling above the characters' faces; sometimes lighting them, sometimes hiding them in a very random and unpredictable way.
The cinematographer cites seeing the dailies of the cave scene as one of the most memorable parts of the film for him, seeing the light "disappearing on Dumbledore's face just in the middle of one of his lines" because of the "tension and drama" it added "only with the use of light in a simple way." Delbonnel, considering why he said no to the last Harry Potter when he was asked to do it, comments, "I think I was scared of repeating myself. Needed to move on."
You can find the full Nominee Questionnaire here on the Oscar.com website. The 82nd Annual Academy Awards take place on the 7th of March.