Fire Damages "Deathly Hallows" Set (Updated)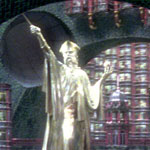 Mar 21, 2010
British tabloid News of the World is reporting that a fire broke out on the "Harry Potter and the Deathly Hallows" film set on Friday evening. The newspaper cites "explosives used in action sequences" as the cause of the blaze, with firefighters from six fire engines taking 40 minutes to put the fire out. No one was injured and the explosives reportedly were being used to film the "scenes where Hogwarts gets blown up during the battle." The paper adds that Daniel Radcliffe (Harry Potter), Rupert Grint (Ron Weasley) and Emma Watson (Hermione Granger) were not on set at the time, but the special effects crew are "devastated."
Update: This morning, Warner Bros. issued a statement regarding the fire which says:

"It was a big special effects scene. Unfortunately, there was a small fire as a result of that. As a precaution, as we had already mobilised our own in-house fire team who had it under control, the fire brigade was called and it was put out in under an hour.
"There was no damage to Leavesden Studios at all. The actual set was due to be rebuilt anyway. The scene was where the set was being destroyed and then it was to be rebuilt for a new scene, as part of a battle for Deathly Hallows part two.
"The idea that fire ripped through Leavesden Studios is so far from the truth, it's untrue. It was a very isolated incident. It was put out very quickly and with limited damage."
Thanks janspach, Bert, Patrick and Elliot for emailing in!