New Details Emerge for Wizarding World Attraction: Forbidden Journey Ride, John Williams' Involvement, and More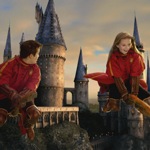 Mar 25, 2010
More information has now come online regarding the Wizarding World of Harry Potter theme park, which will have its grand opening at Universal Orlando Resort on June 18, 2010. In a press release from Universal, more details about the many elements of the park and its features have been revealed. Adding to our report from early this morning, the release notes:

"The attraction's newly created ride system envelops guests in filmed action scenes and moves those scenes with them as they travel through the ride, allowing more time in the center of the adventure and with their favorite characters. This fusion of robotic technology and filmed scenes has never been achieved until now. In some cases, technology had to be invented to achieve the highest level of guest experience. The combination of pioneering, state-of-the-art technology, innovative filmmaking and surprises around every corner make this attraction the embodiment of the Harry Potter book and film series-and the future of theme park entertainment."
A series of quick facts about the Harry Potter and the Forbidden Journey ride are also included:
Storyline: As you venture through Hogwarts, you meet Harry, Ron and Hermione, who convince you to skip a planned lecture and follow them. Upon taking their advice you travel by Floo powder, and begin your adventure as you soar over Hogwarts, narrowly escape a dragon attack, have a close encounter with the Whomping Willow, get pulled into a Quidditch match and more.
First-ever combination of advanced robotic ride system technology with innovative, immersive filmmaking
Award-winning composer John Williams oversaw the creation of the attraction's score
The queue includes the following Harry Potter book and film elements: Headmaster Dumbledore's office, Defence Against the Dark Arts classroom, Gryffindor common room, Room of Requirement, and the greenhouse; talking portraits including the Fat Lady and the never-before-seen four founders: Godric Gryffindor, Salazar Slytherin, Helga Hufflepuff and Rowena Ravenclaw; the Sorting Hat, the One-Eyed Witch statue and the Mirror of Erised
Duration of ride: The full attraction experience, including the queue, takes about an hour
Number of scenes in the attraction: 12
Characters (featuring Harry Potter film talent): Harry Potter, Ron Weasley, Hermione Granger, Albus Dumbledore, Rubeus Hagrid and Draco Malfoy You may also catch a glimpse of Fred and George Weasley, Ginny Weasley and Neville Longbottom
An accompanying video also on the Wizarding World of Harry Potter site features President of Universal Creative Mark Woodbury speaking to the latest news from the theme park as well. The video can now be viewed here in our Video Galleries.
Readers will recall that, Universal announced the grand opening for the Wizarding World of Harry Potter will be on June 18th. Those who have purchased one of the advertised packages for May 28 are still promised a "Harry Potter experience," according to reps from the park. TLC's full report can be read here.