New Wizarding World of Harry Potter Ride, Height Restriction Information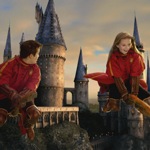 Mar 04, 2010
BehindtheThrills.com has posted an update which details information from a newly released Universal Orlando Resort 2010 brochure about the Wizarding World of Harry Potter theme park. Of interest from this new brochure are details about the height restrictions for the individual rides at Wizarding World, as well as what each ride is expected to entail. The report notes:

Attractions for Forbidden Journey, Dragons Challenge, and Flight of the Hippogriff are all mentioned and described under these. As typical vague descriptions to keep surprses and to keep the common guest informed on what the attraction will feature, but an interesting note is the height requirement is 48 inches for Harry Potter and The Forbidden Journey.
Dragon's Challenge mentions "different ride each time!" some are speculating that it will have unique elements to the coaster like sound effects and other tracks for on board audio that may be installed. As neat as that could be I don't think that is the case here and the description just pushes the fact that there are two solid different roller coaster attractions to experience.
Additionally, a note is made about the Three Broomsticks attraction, which the brochure lists as a "service" counter. According to BehindtheThrills.com, this "is a general term for someone to pick up their food in a cafeteria style resturant [sic]."
A PDF version of the brochure can be downloaded right here. The Wizarding World of Harry Potter is slated for a Spring 2010 opening.
Thanks to MN for the heads up.