Hermione's Bedroom and More Previewed in Harry Potter Film Wizardry Book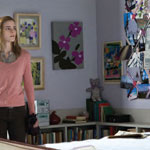 Apr 01, 2010
Harper Collins has published, via PDF available for download, the first look at a series of interior pages from the Harry Potter Film Wizardry book, set for release on October 19, 2010. The full collection, available to view right here in our Image Galleries, features ten full high res pages of previews, showcasing such new shots from the "Harry Potter and the Deathly Hallows" film as Hermione (actress Emma Watson) standing in her bedroom, behind-the-scenes Polaroids of the cast throughout the years, a copy of Hogwarts, A History, Hermione's small, purple, beaded handbag, and so much more. The complete collection also includes such never-before-seen shots of:
The publisher says the following regarding the upcoming book:
Harry Potter Film Wizardry is the first book to delve into the fascinating and intriguing world of the enormously successful Harry Potter film franchise. Fully supported by Warner Bros, this comprehensive volume features interviews with cast members Daniel Radcliffe (Harry Potter), Emma Watson (Hermione Granger), Rupert Grint (Ron Weasley), and Alan Rickman (Snape), as well as exclusive behind-the-scenes stories from David Heyman, the producer on all seven films, the directors of each of the movies, and art director Stuart Craig. It is being developed with the creative team behind the celebrated movie series and therefore is the ultimate, insider's look at each of the Harry Potter films, including part one of The Deathly Hallows, opening in theaters November 19, 2010 and sneak peeks at part two which will premiere in the summer of 2011.
Meant to resemble a creaky old spell book from the Harry Potter world, the cover will have a distressed leather look and feel, complete with gold stamping. A veritable feast for the eyes, Harry Potter Film Wizardry features high-quality close-up pictures of the props, sets, costumes, and effects that bring depth to Harry's world, along with reproductions of production memos and notes from the films' producer and art director. Also included are fabulous interactive extras, such as reproductions of Harry's letter from Hogwarts, a Marauder's Map, a Weasleys' Wizard Wheezes product catalog, and a teaser poster for Harry Potter and the Deathly Hallows Part II, which is slated for release on July 15, 2011. All encompassing in scope and dynamically designed, this book is the official guide to all things Harry Potter.
Here, below, are the full ten pages and cover for the book; our full collection of high res images can be found in TLC's Image Gallery.