Emma Watson Nominated for Constellation Award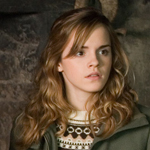 Apr 13, 2010
The nominations for the 2010 Constellation Awards have been announced, and contain a nod for actress Emma Watson (Hermione Granger) in the Best Female Performance in a 2009 Science Fiction Film, TV Movie, or Mini-Series category. Selected for her work in "Harry Potter and the Half-Blood Prince," Miss Watson is nominated along side such other actresses as Zoe Saldana (for both "Avatar" and "Star Trek"), Aurora Buchanan ("Doctor Who: Victimsight"), and Dakota Fanning ("Push"). Additionally, actor David Tennant (Barty Crouch Jr.) was nominated for his leading performance in "Doctor Who: The Waters Of Mars."
The Constellation Awards, now in their fourth year, are "Canada's annual science fiction awards focused on rewarding excellence in science fiction film and television." In order to vote, one must be a Canadian citizen (not necessarily living in Canada) or a permanent resident of Canada, or either a member of the TCON Promotional Society in July of 2009 (during Polaris 23) or a currently a member of the TCON Promotional Society. Full eligibility rules and information can be found right here.
Many congratulations to Miss Watson and Mr. Tennant!