Rupert Grint on BBC Radio 2's Dermot O'Leary Show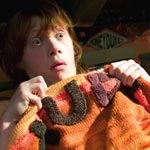 Apr 19, 2010
Rupert Grint (Ron Weasley) was interviewed this weekend on BBC Radio 2's Dermot O'Leary show. You can listen to the show again here on iPlayer at 1 hour 15 minutes in or, alternatively, you can find audio links of the interview for download at this link courtesy of our Order Partner RupertGrint.net.
In the interview, Grint discusses "Cherrybomb," filming "Harry Potter and the Deathly Hallows," music festivals and much more. Grint also spoke briefly about the actors he has worked with over the years on the Harry Potter films:

You look at the list of people on Harry Potter, like Alan Rickman, and just everyone, every British actor, has done a bit in Harry Potter. Obviously when I was younger I didn't really know who these people were.
[On Bill Nighy (Rufus Scrimgeour)] I think he wore his own suits [in "Deathly Hallows"]!
Thanks again to our Order Partner RupertGrint.net for the heads up!
We can also let you know that Maggie Smith (Professor McGonagall) will be appearing on GMTV tomorrow (Tuesday) morning on British television channel ITV. Additionally, Rupert Grint will be making an appearance on GMTV on the 23rd of April between 7am and 9.25am to talk about his new film "Cherrybomb", which will be released in the U.K. that day. Many thanks for emailing in, Lisa!