PotterCast 219: Potter Park Preview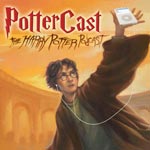 Apr 25, 2010
The 219th episode of PotterCast, our Harry Potter podcast, is now online with a special extended preview of the Wizarding World of Harry Potter attraction at Universal Orlando Resorts. Our own Melissa Anelli was recently on site for a special preview, and can now dish on the many details about the forthcoming Potter theme park, set to have its grand opening on June 18. In this special report, Melissa takes us through the many elements of the park, its rides, and attractions, as well as its many shops, sights, and scrumptious food and drink options. From the Forbidden Journey ride to Butterbeer at the park, this preview will offer up an abundance of information about the expansive Harry Potter attraction. We also take questions from the Livestream audience and give a few tidbits of information about our upcoming conference, LeakyCon 2011, which will take place at Universal Orlando Resort in July of 2011.
As a reminder, the LeakyCon DVD, which will be available to pre-order soon, will also include all wizard rock performances from our conference. If you like live wizard rock, be sure to reserve your copy of the upcoming LeakyCon Live Album of the wizard rock live shows at our LeakyCon 2009 conference.
To listen, just hit the "Play" button on the right side of the page (->), or use iTunes, or direct download.
"Potter Park Preview"
We're going to get to the Butterbeer… we're going to get to it often.
Hogwarts is out the window!!

The Forbidden Journey Ride.

Inside Hogwarts.

The technology of the rides.

An explosion of LeakyCon ideas.
Running Time: 77:18Producer: John Noe
Also, special thanks to our ever-vigilant mods for monitoring the live PotterCast recordings.
LeakyCon 2011: A Harry Potter Conference in Orlando!"Harry, A History" WebsiteJingle Spells 3PotterCast VlogsPodcast AlleyDigg
Direct download.
Low-band Direct download.
Remember you don't need an iPod to listen. Listen easily on iTunes, which you can download and install here, by clicking here to listen, or you can just use the streaming Flash player at PotterCast.com or just on the right side of this page. Discussion of the PotterCast is right here. Enjoy!
Leaky's Harry Potter Twitter list is the most exhaustive collection of news and official Harry Potter information in the world. Be sure to follow it today!