Actress Sophie Thompson Speaks About "Deathly Hallows" Filming as Mafilda Hopkirk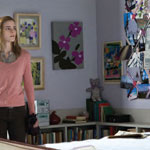 Apr 08, 2010
The BBC has posted a short video interview with Sophie Thompson, who is portraying the role of Mafilda Hopkirk in "Harry Potter and the Deathly Hallows," in which the actress mentions briefly filming for the seventh film. Noting a particular scene filmed "a couple of weeks ago" where she is being chased by dementors. Quoteage:
"We were running away from these dementors, which Harry Potter people will know are these horrible creatures that suck out your very soul and they had to slow me down. I was in my high heels and everything because I'm playing this little secretary character … and they said: 'Soph, you're going too fast! Nobody can keep up!'"
"Harry Potter and the Deathly Hallows: Part I" comes to theaters this November, while Part II is slated for release in July of 2011.