Details from Private Preview of Wizarding World Theme Park Online (Updated)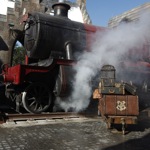 May 17, 2010
This evening, the attendees of the Orlando International Pow Wow 2010 were able to get a sneak peek at the Wizarding World of Harry Potter theme park at Universal Orlando Resort. InsidetheMagic was able to attain information from the private event for travel and media professionals and has posted a series of photos, along with new bits of information from the attendees on the ground. Among the new tidbits, InsidetheMagic notes:
Hogsmeade Village store fronts contain interactive elements that include the Quick Quotes Quill and plants that spring to life as you pass by.
The Ollivander's Wand Shop experience seems to embody the concept of the wand "choosing" you. Guests work with a "shop owner" to determine which magic wand is the best fit. Guests try to cast spells that include levitating flowers or moving a ladder. If the wand is not a correct fit, special music and lighting makes it clear. A gust of air confirms a right choice.
At the Owlry, four different of Harry Potter postmarks are available to choose from.
You enter Dragon Challenge (former Dueling Dragons) through the Champion's tent and you catch a glimpse of the Triwizard Tournament Cup and the golden eggs from the dragon challenge. Shadows of fighting dragons are seen in the tent above the loading area.
Street performers include girls from the Beauxbatons Academy of Magic performing a ribbon dance and guys from the Durmstrang Institute wielding staffs. The Hogwarts frog choir is comprised of live singers with puppets who sing the "Something Wicked This Way Comes" song heard on the third Harry Potter film.
At the Flight of the Hippogriff attraction, guests have encounters in some form with Hagrid, Fang, and Buckbeak. Before riding, you bow to a full-size moving Hippogriff.
Apparel available for purchase includes an "I served time in Azkaban" T-shirt.
The Wizarding World of Harry Potter theme park is set to have its grand opening on June 18.
Update: InsidetheMagic also let us know of a photo of the safety sign from the entrance of the Forbidden Journey attraction. The sign, which can be seen right here, describes cautions relating to the "dynamic acrobatics" of the ride.
Many thanks to InsidetheMagic!