EW: Harry Potter One of the Greatest Characters of the Last Twenty Years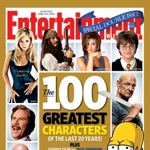 May 27, 2010
Entertainment Weekly has complied their list of the 100 Greatest Characters of the Last 20 Years to commemorate the magazine's twentieth anniversary, and has included the character of Harry Potter on that ranking. Coming in at number two, the boy who lived joined such other venerable characters as Homer Simpson, Buffy the Vampire Slayer, and Edward Scissorhands. Harry Potter actor Dan Radcliffe is quoted in the article as saying:
"The books will be around for decades to come which makes me wonder if in 30 years time, we will be seeing remakes of all these movies. I have a very dark suspicion that that will happen, although I don't particularly want it to!"
EW: If you could have spent your adolescence playing any other character, who would it be?
Daniel Radcliffe: "I was always unbelievably jealous of Tobey Maguire playing Spider-Man. I do think Spidey is the coolest of the superheroes."
The top ten list of the 100 Greatest Characters of the Last 20 Years is as follows:
1) Homer Simpson ' The Ultimate D'Oh boy.
2) Harry Potter ' The Wiz Kid
3) Buffy
4) Tony Soprano ' The toughest family man.
5) The Joker
6) Rachel Green ' The girl next door who'll be our best Friend forever
7) Edward Scissorhands ' The sharpest dresser
8) Hannibal Lecter ' A doctor who put the gore in gourmand.
9) Carrie Bradshaw ' The sleek city slicker.
10) Spongebob Squarepants
The full lis will be available in the June 4 issue of Entertainment Weekly is set to be on newsstands May 28.