New Interview With Art Director for Wizarding World of Harry Potter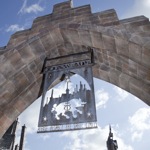 May 06, 2010
The Universal Orlando website has a brand new interview online with The Wizarding World of Harry Potter's Art Director, Alan Gilmore. Gilmore previously worked as the Art Director on a number of projects including the Harry Potter films, "Notting Hill" and "The Bourne Ultimatum." A video of the interview is now available in our Leaky Video Galleries via this link.
In the interview Gilmore spoke about working with production designer Stuart Craig and the Art Director's role in bringing the Harry Potter attraction to life:


I see myself as a conduit, shepherding Stuart's design and acting as a guardian for his vision and designs from all of the movies. I have worked alongside the film design team from London for a long time now and have learned so much from them. We sourced from an extensive back catalog of sets and settings from the films, and many of the spaces we created for the films have been reinterpreted for The Wizarding World of Harry Potter.
Gilmore also discussed the need to make the theme park world "work from every angle… from a child's point-of-view, to a very tall person's point-of-view, and for everyone in between." He contrasted this challenging task to the Harry Potter films when you "know where your viewer is, and you can design to that viewer, composing the settings from one or two viewpoints."
Universal recently released a photo revealing the brick archway entrance to Hogsmeade and Gilmore declares the view from the archway as the first thing he would want guests to experience:

I would want them to come through the entry arch at Hogsmeade and take a moment to just absorb the amazing spectacle in front of them. The viewpoint just beyond the arch beside the train looking toward the castle is the most encompassing view of The Wizarding World of Harry Potter. It really gives you a sense of this amazing place. It should be quite magical to see the reactions on the fans and guests faces as I am sure this will be the first time most people will have ever been in an environment like this. So, for me, I think this starting point is where you want to have your first experience and explore Harry's world.
You can find a transcript of the full interview here on the Universal Orlando website and the video of the interview here in our galleries. The Wizarding World of Harry Potter will have its grand opening on the 18th of June, this year.