Wizarding World of Harry Potter Soft Open Report RoundUp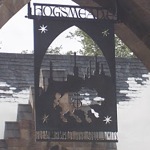 Jun 01, 2010
As readers will recall, this past weekend saw a soft opening for the Wizarding World of Harry Potter theme park at Universal Studios Orlando Resorts. In the following days, a myriad of reports, videos, and photos have made their way online from inside the park itself. Here is a brief roundup of some of the latest from the Harry Potter theme park. First up, Attractions Magazine has a report online which details the Forbidden Journey ride, as well as the experience and atmosphere leading visitors into the actual ride. This report also features a video of the ride itself, in addition to a POV video from the Flight of a Hippogriff ride.
Next, word has come online regarding selected merchandise from the Harry Potter attraction being available at the Official Universal Shop at Orlando International Airport. InsidetheMagic.net is reporting that the two stores in the airport "have been almost completely taken over by the Wizarding World. Decorations include owl cages, stacked dusty books, and displays with brooms to pose for pictures with. Available merchandise ranges from character magic wands (including Harry Potter's, Hermione Granger's, Ron Weasley's, Dumbledore's, and even Voldemort's) and Hogwarts shirts to Remembralls and Honeydukes lollipops." Photos of the many products contained in the shops can be found right here.
Finally, be sure to keep watch of Leaky's Image and Video Galleries for all the very latest photos and videos of the park. Our expanding collection now encompasses images from the soft opening of many of the character-inspired guides at Wizarding World, Ollivanders, Honeydukes, and more. New videos include Parade Magazine's Sneek Peek at the Forbidden Journey ride and a Hogsmeade walkthrough.
Readers who are able to capture their own videos or images from the park are encouraged to email them to [email protected] The Wizarding World of Harry Potter is slated to have its grand opening on June 18.