Behind the Scenes Video of LEGO Harry Potter Video Game Online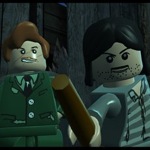 Jun 10, 2010
Warner Bros. and TT Games sent over a brand new behind the scenes look at the forthcoming LEGO Harry Potter: Years 1 – 4 video game, which can now be viewed in our galleries right here. An accompanying press release notes:

This new behind-the-scenes video explores the spellbinding characters and their unique abilities. Witness Harry's incredible broom-riding skill (and Hermione's complete lack thereof), and get to know the personality of the lovable canine Fang ' joyously recreated by TT Games in LEGO form as a playable character in the game. The video includes insightful commentary from Tom Stone (Managing Director, TT Games), Loz Doyle (Senior Producer, LEGO® Harry Potter: Years 1-4) and Jonathan Smith (Head of Production, TT Games).
Additionally, screencaps from the behind the scenes preview can be found here in our Image Galleries.
The LEGO Harry Potter: Years 1 – 4 video game is slated for release on June 29 on the Xbox 360, Wii, PlayStation 3, Nintendo DS, PSP and PC platforms.