Universal to Live Stream Wizarding World of Harry Potter Grand Opening Events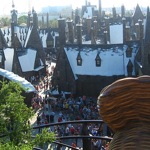 Jun 15, 2010
Harry Potter fans unable to attend the grand opening of the Wizarding World of Harry Potter theme park at Universal Orlando Resorts this Friday will be able to see the festivities via a live stream of the opening events starting on Wednesday. In a press release, Universal notes that "viewers will be treated to highly-visual and entertaining events commemorating the opening of the world's most anticipated entertainment experience. Viewers may even get a glimpse of stars from the "Harry Potter" films who will be in attendance at the events. Live updates from the grand opening events will also be shared on Universal Orlando Resort's Twitter page."
The video stream will be shown in two parts; a Celebrity Preview, an event not open to the public, will be broadcast on Wednesday, June 16, from 9:30 – 10:00 PM EDT. Next, the Official Grand Opening stream will take place this Friday, June 18, from 9:00 – 9:30 AM EDT.
The live feed will be accessible via this link.
Leaky will be on the scene in Orlando the entire week, so stay close for the very latest on the opening of the Wizarding World of Harry Potter.