AirTran's Wizarding World of Harry Potter Aeroplane Takes to the Sky (Updated)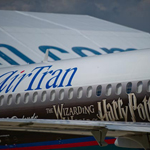 Jun 16, 2010
In anticipation of the Harry Potter attraction's Grand Opening on Friday, AirTran and Universal Studios have today unveiled a Wizarding World of Harry Potter themed aircraft. The Boeing 717 aeroplane features graphics advertising both the attraction and the Universal Orlando resort, as well as a wizarding hand holding a magic wand. A press release issued by Air Tran comments that the plane is "the latest expansion of a partnership that includes exclusive travel packages and special offers to people traveling on AirTran Airways to the Universal Orlando Resort."
To celebrate its launch, the plane flew winners from NBC Today Show's "The Wizarding World of Harry Potter at Universal Orlando Resort" contest to Orlando International Airport. Photos of the aircraft can be seen right here in our galleries.
Update: A video of the plane being cleaned and moving around the concrete can now be seen here in our video galleries.
Additionally, AirTran and Universal Orlando Resort announced that they are giving away a three night trip for four to the park, including three nights at the Hard Rock Hotel. More details about the contest can be found on the Air Tran website at this link.
Thanks, Anne, for emailing in!