June Featured Crafter of the Month: Rosemary Waits (Quietish)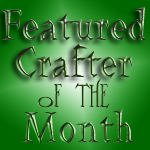 Jun 02, 2010
For the month of June, our Crafty Witches and Wizard have chosen Rosemary Waits as the Featured Crafter of the Month. Rosemary is also known as Quietish online and she was nominated for her many skills in knitting, sewing and jewellery-making. Examples of her fine work include the Warlock's Hairy Heart, a House Unity Wall Hanging and a number of original Harry Potter Crafts right here on Leaky, such as the Hogwarts House Friendship Bracelet.
More crafts by Rosemary can be found at this link and you can congratulate her here in Rosemary's thread at the Leaky Lounge.
Nominations
are now open for July's Featured Crafter of the Month and will be
accepted until 11:59pm EST on the 15th of June. If you would like
to nominate a crafter to be featured next month, email
crafts@the-leaky-cauldron.org with the crafter's name, as well as links
to their work. More information on the nomination process can be found here.