Video of Harry Potter Cast, J. K. Rowling at Wizarding World Released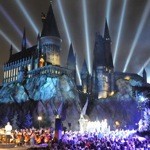 Jun 20, 2010
Universal Orlando has released a short video featuring actors from the Harry Potter films along with author J. K. Rowling touring the many different aspects of the Wizarding World of Harry Potter theme park. Available to view via this link or below, the video features actors Dan Radcliffe, Rupert Grint, Tom Felton, and Harry Potter author J. K. Rowling making their way around such places as Hogsmeade, Zonkos, the Hog's Head Pub, and more.
The Harry Potter author is shown being taken around the streets of Hogsmeade, and looking to shop windows along avenue. In regards to the park, J. K. Rowling notes that, "I'm used to walking onto film sets, where at a certain point everything dissolves into scaffolding and lighting, so, I suppose, the completeness of the vision is most breathtaking."

The Wizarding World of Harry Potter at Universal Orlando Resorts is open now.