Dan Radcliffe on Filming Snape's Memory Scenes for "Deathly Hallows"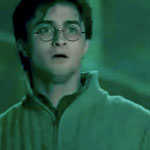 Jun 21, 2010
Daniel Radcliffe (Harry Potter) has given a new interview to MTV News which took place as he took MTV on a tour of Hogwarts Castle at The Wizarding World of Harry Potter. Reminiscing about filming "Chamber of Secrets" as Radcliffe and MTV looked around Dumbledore's office, the actor also spoke briefly about filming the "Deathly Hallows" scene in which Snape's memories are revealed to Harry:

"One of the key scenes in the series happens in this room, where towards the end of ['Deathly Hallows'], Harry learns something about Snape's past in relation to him, and that takes place in this room. In fact, actually, it takes place pretty much here," he said, motioning to where he was standing. "And that is kind of pretty much possibly the key scene in the series, you might say. There's a certain argument for that."
Radcliffe talks about the real life stars of the talking portraits in the gallery ("many of the crew, and also his father") and the possibility of revisiting Hogwarts with children of his own in the full article, which you can find at this link.