New "Harry Potter and the Deathly Hallows" Trailer to Debut Monday, June 28, at 4 PM PST (Update)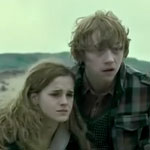 Jun 23, 2010
News has come online from WB reporting that the new trailer for the "Harry Potter and the Deathly Hallows" film will be released online at 4 PM PST (7 PM EST) next Monday, June 28. As readers will recall, last week TLC reported that this trailer is said to contain scenes from both parts of the "Deathly Hallows" film and will differ from the trailer debuted by MTV earlier in the month.
Update: We have received word from WB confirming that this trailer will be attached to the theatrical release of the "The Twilight Saga: Eclipse" film June 30th.
"Harry Potter and the Deathly Hallows: Part I" will be released November 19, 2010, and "Deathly Hallows: Part II" will arrive in theaters July 15, 2011.