USA Today, Telegraph Release Images from DH Trailer; Death Eaters, Hagrid, Gregorovich, Locket Scene (Update)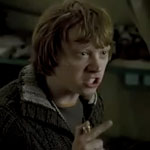 Jun 28, 2010
A slew of additional images have made their way online from the "Harry Potter and the Deathly Hallows" trailer which is set to premiere online later today at 7 PM EST (4PM PST). As a followup to our report below, our Image Galleries have now been updated to include shots released by USA Today and The Telegraph. Images include shots of:
Harry recovering after the Ministry BattleHarry and Hagrid on Sirius' MotorbikeVoldemort and his Death EatersHarry vs Voldemort in the Final BattleRon About to Smash the LocketThe Gringots Dragon
The Trio After ApperatingBellatrix LestrangeHarry Fighting During the BattleRon in the ForestTrio on the Run after the Wedding
Harry Standing in the Forest
Voldemort against Harry during the BattleGregorovich in his Shop

In addition to this, USA Today has released a short interview with Harry Potter film producer David Heyman as part of an article featuring their preview. Quoteage:

The new movie focuses heavily on Harry's tangles with the evil Lord Voldemort. "Harry and Voldemort go wand to wand in the courtyard," says longtime producer David Heyman.
In one scene, Voldemort grabs Harry's face and malevolently hisses "Why do you live?" And brave Harry responds, "Because I have something to live for."
These last two films will be the first to be shown in IMAX 3-D.
"The technology has developed and offers great possibilities," Heyman says. "We won't be going for that 'wow, things always jumping out at you' effect. I think the best 3-D doesn't have to be aggressive. We'll be pushing back from the screen. We're going for an organic, truthful 3-D."
But what about 3-D fatigue among audiences? "Those people who aren't keen to embrace the 3-D of it all will have plenty of opportunities to watch it in 2-D," he says. Technical advances have leaped forward over the course of the series. "A lot of the stuff we do in this film, we couldn't have done on the first film," says Heyman. "The quality of the visual effects is so much better. (House elves) Kreacher and Dobby will be so much better realized than in the previous films since we have new technology to better capture their faces.
"What I love about these films is the blend of old and new technology."
Update: Yahoo News has release an additional two images from the trailer; they have been added to our gallery and feature a shot of Argus Filch (portrayed by actor David Bradley) and the Trio running through the forest from the Snatchers.
The brand new "Harry Potter and the Deathly Hallows" trailer is set to be released online today at 7 PM EST. Stay close to Leaky for we will update you with the trailer the second it comes online.