Warwick Davis Discusses Last Day of Shooting "Deathly Hallows"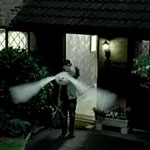 Jun 29, 2010
MTV has an interview with Warwick Davis (Professor Flitwick and Griphook) where he discusses his feelings on the last day of shooting "Deathly Hallows":
"I shot my last day on 'Harry Potter' last Saturday. It was a very sad,
very emotional day," actor Warwick Davis told MTV News recently at the
grand opening of the Wizarding World of Harry Potter theme park. "I never really get upset
finishing a film. I'm normally glad that it's over, that I won't have to
wear the makeup anymore " but I was actually really quite choked up
about it. Ten years' worth of work finished, and on Sunday, it was
worse. I woke up Sunday morning thinking, 'No more Harry Potter. That's
it.' "
Davis also discusses being at the Wizarding World of Harry Potter grand opening in the interview and says:
"It's lovely, because we're all here," he said, referring to the newly
opened Wizarding World of Harry Potter. "It's like a big school trip.
We're all on holiday, so this is like a new beginning. And we still have
the films to see as well."
You can read more here and you can see the latest trailer for the final two Harry Potter movies in our Video Galleries.