PotterCast 221: Live at Wizarding World Orlando!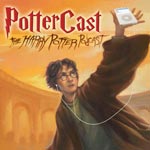 Jun 06, 2010
style="padding-top: 7px; padding-right: 7px; padding-bottom: 7px; padding-left: 7px; background-color: #ffffff; font: normal normal normal 13px/1.22 arial, helvetica, clean, sans-serif; ">
PotterCast, our Harry Potter podcast, is stationed at the Wizarding World of Harry Potter for this, our 221st episode, and has for you your first onsite report of the Harry Potter theme park from the PotterCasters. Melissa, John, and Frak are joined by the Orlando Harry Potter Club, and talk about their first experience spending the day at the Wizarding World of Harry Potter at Universal Islands of Adventure in Orlando, Florida! Melissa, John, and Frak were there for the soft open of the new Harry Potter park, and had an incredible time. Included in this episode are detailed description of the line queue, the Hog's Head, the Owl Post, Ollivanders, and of course – the Butterbeer. We'll be back live again before too long, so send in your questions about what you want to know about the park as we get closer to the grand opening on June 18th!
As a reminder, the LeakyCon DVD, which will be available to pre-order soon, will also include all wizard rock performances from our conference. If you like live wizard rock, be sure to reserve your copy of the upcoming LeakyCon Live Album of the wizard rock live shows at our LeakyCon 2009 conference.
To listen, use iTunes, or direct download.
style="text-align: center; ">"Live at Wizarding World Orlando!"
PotterCast in Orlando!
It's Butterbeer!
Walking through the park.
Rides, owls, trains, and more.
Email us with your questions.
Running Time: 45:06Producer: John Noe
Also, special thanks to our ever-vigilant mods for monitoring the live PotterCast recordings.
LeakyCon 2011: A Harry Potter Conference in Orlando!"Harry, A History" WebsiteJingle Spells 3PotterCast VlogsPodcast AlleyDigg
Direct download.
Low-band Direct download.
Remember you don't need an iPod to listen. Listen easily on iTunes, which you can download and install here, by clicking here to listen, or you can just use the streaming Flash player at PotterCast.com or just on the right side of this page. Discussion of the PotterCast is right here. Enjoy!
Leaky's Harry Potter Twitter list is the most exhaustive collection of news and official Harry Potter information in the world. Be sure to follow it today!