Update: Harry Potter Library Exhibition Enters Illinois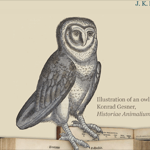 Jun 07, 2010
Back in 2009, TLC told you of a traveling Harry Potter library exhibit, which focused on the historical and scientific aspects of the series as they pertained to "Renaissance traditions." The exhibit is now in Galesburg, Illinois, and a report has come in which details the experience people have had at it:
"The exhibit is comprised of seven panels that explore topics discussed
in the Harry Potter series and their historic correlations. On the panel
that lists the topic of immortality, for example, the character
Nicholas Flamel is discussed. …'To be honest, before I curated the show, I did not realize half of it
was real… I didn't realize Nicolas Flamel was real,' said Elizabeth
Bland, exhibit curator and exhibition coordinator at the National
Library of Medicine in Bethesda, Md."
The report also contains a calendar of events for the exhibit which includes several "Wizarding Class[es] for Muggles," such as Care of Magical Creatures and Herbology.
The exhibit will be at Galesburg, Illinois until July 2nd.