Italian GutDistribution Updated with New "Deathly Hallows" Diaries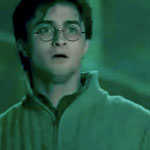 Jul 12, 2010
Italian website GutDistribution has recently been updated to feature two new Harry Potter diaries. The diaries feature graphics from "Harry
Potter and the Deathly Hallows," including part of the Undesirable No. 1 poster. Pictures of the two designs can be seen here
in our galleries.
You can find a brief description in Italian of the diaries' content, dimensions and layout at this link.
Thanks to Janie for emailing in!