Matt Lewis Announced as BAFTA Young Game Designers Ambassador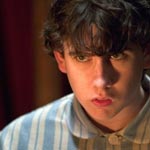 Jul 15, 2010
The British Academy of Film and Television Arts have announced that Neville Longbottom actor Matthew Lewis will be the Young Game Designers Ambassador for the Academy's new initiative. BAFTA have revealed details of the Young Game Designers competition, which asks teams of three people between the ages of 11 and 16 to create and submit a design for a new video game.
According to a press release issued by BAFTA, the winning team will be announced in November at the EA British Academy Children's Awards. The press release describes Lewis' role as follows:

Matthew Lewis, best known to fans of the Harry Potter films as Neville Longbottom, has come onboard as the BAFTA Young Game Designers Ambassador. He will promote awareness of the competition to the media, children and their parents and sit on the competition's judging panel.
Matt Lewis was among the featured speakers at yesterday's launch event for the competition, which took place at Walthamstow Academy.
To find out more about the competition, open to residents of the UK, take a look at the BAFTA Young Game Designers website.