International Versions of "Deathly Hallows" One Sheet Posters Released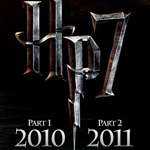 Jul 16, 2010
The Brazilian and German versions of the first official "Harry Potter and the Deathly Hallows" poster have been released and can now be seen in our galleries. The design of both posters is the same as the first official English language one sheet teaser poster released a fortnight ago, with the taglines and film information translated into their respective languages.
You can find the German poster in our galleries at this link, with the tagline "Es Endet Alles Hier" whilst a high quality version of the Brazilian poster can be found here in our galleries, with the tagline "Tudo Termina Aqui."
"Harry Potter and the Deathly Hallows: Part 1″ will be released on the 19th of November this year, with "Part 2″ released the following July 2011.
Thanks to ScarPotter and DanielRadcliffe.de for the heads up!