"Deathly Hallows" Footage Shown at Comic Con; LeakyMug Coverage of the Event Now Online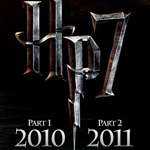 Jul 24, 2010
As we reported below, Leaky and MuggleNet were on hand at Comic Con 2010 in San Diego, California today to cover the WB panel about the upcoming "Harry Potter and the Deathly Hallows" film. Our own Melissa Anelli and MuggleCast's Andrew Sims recorded a special edition LeakyMug to discuss the news and events surrounding this panel, as well as give a rundown of the new slew of "Deathly Hallows" footage which were shown at the event. The LeakyMug is now available via our iTunes feed, as well as via direct download here. Be forewarned, this podcast (and the rest of this post) will contain spoilers from the final installments of the Harry Potter films.
In this LeakyMug, Melissa and Andrew discuss the new footage, which includes glimpses of:
Dead Dumbledore in the tomb
Nagini
Bellatrix holding Harry

Harry and Ron Fighting

The Seven Potters
The Wedding
Harry and Hagrid driving through Hogwarts
Snape meeting with Voldemort

Death Eaters at Malfoy Manor

Death Eaters congregating

Rufus Scrimgeour

Harry and Hagrid on the motorbike.
Keep watch on the @Leaky and @MuggleNetLive for continuous updates.