HPA For the Win – Take Five Minutes to Help the HP Alliance Change the World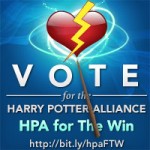 Jul 06, 2010
Our friends at the Harry Potter Alliance are currently closing in on the lead for the Chase Community Giving Challenge, an effort which allows people from around the world to help allocate $5 million to hundreds of thousands of charities around the country. The HPA is in the running for the $250,000 prize, which will be awarded to the charity which receives the most votes right here.
With those funds, the HPA websites notes that the charity will be able to, "improve Literacy, LGBT Rights, AND build an Online Coalition of Fandoms, Youtube Communities, and Organizations. No one has ever before brought communities like these together and the one time we have, we raised over $123,000 for Haiti. Human rights and fighting global warming continue to lack the kind of energy and enthusiasm that we will bring to the table. Ready to see a game changer in the world of social activism? If we win the $250,000 prepare to see a massive shift!"
Voting, which takes no more than thirty seconds, is open now and runs through July 12th. Vote here!