Dan Radcliffe Interviewed by Out Magazine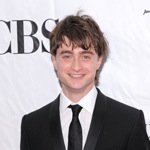 Aug 11, 2010
In a new article with Out magazine Dan Radcliffe (Harry Potter) discusses a variety of subjects with interviewer Our Lady J, including wrapping up "Deathly Hallows," and how closely people connect Radcliffe to the character he played since 2001:
DR: I've just finished Potter properly yesterday.
OLJ: Did they let you keep the glasses?
DR: Yes! I've
got two pairs from the seventh film and the pair I wore in the very,
very first movie — which are really tiny on my head now!
DR: It's strange. I think it's a mixture of people who actually
do, in some way, think I am Harry Potter and a number of people who
can't be bothered to know my name, which is fair enough. I mean, when
you've been so identified with one character for so long, it's natural
that it should almost become an alias. But I've been encouraged lately
to find that people are using my real name more often.
Radcliffe also goes on to talk about how he initially got involved in the Trevor Project:
OLJ: How about your involvement with
the Trevor Project? How did that come about?
DR: My family
and I have always thought it was best to focus our efforts rather than
kind of spreading ourselves too thin across a lot of different
organizations — just really picking things that you care about and
really, really believe in, and Trevor absolutely was one of them. And
when I got to have a tour of the New York call center, my admiration for
the projects, but also for the place and the people, tripled. The
systems they have in place, the actual way the call center works on a
practical level, is so brilliant and efficient. It's something I'm very,
very proud to be able to be involved with.
Many other topics are discussed in the interview, such as Radcliffe's opinion of what working on Broadway is like, politics, LGBT issues, and his relationship status. You can read the article here, though please be aware that there is some swearing on the final page that is inappropriate for younger readers. Also, you can see the pictures from the interview here in our Image Galleries.