Leaky's Daily Quotedown to Deathly Hallows: 99 Days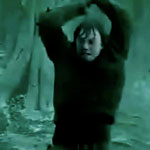 Aug 11, 2010
There are now only 99 days left until "Harry Potter and the Deathly Hallows: Part I" hits theaters! We are posting a quote from the first half of the book every day in celebration and to give us a chance to discuss and ponder the final book as it goes to film. Here's today's quote!

"Well," said Harry, glancing at Hermione, who nodded encouragingly, "it's about that symbol you were wearing around your neck at Bill and Fleur's wedding, Mr. Lovegood. We wondered what it meant."
Xenophilius raised his eyebrows.
"Are you referring to the sign of the Deathly Hallows?"
–Harry Potter and the Deathly Hallows, "Xenophilius Lovegood"