Leaky's Daily Quotedown to Deathly Hallows: 97 Days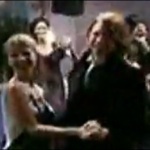 Aug 13, 2010
There are now only 97 days left until "Harry Potter and the Deathly Hallows: Part I" hits theaters! We are posting a quote from the first half of the book every day in celebration and to give us a chance to discuss and ponder the final book as it goes to film. Here's today's quote!
"Do you, William Arthur, take Fleur Isabelle…?"
In the front row, Mrs. Weasley and Madame Delacour were both sobbing quietly into scraps of lace. Trumpetlike sounds from the back of the marquee told everyone that Hagrid had taken out one of his own tablecloth-sized handkerchiefs. Hermione turned and beamed at Harry; her eyes too were full of tears.
"…then I declare you bonded for life."
-Harry Potter and the Deathly Hallows, "The Wedding"