Dan Radcliffe Interviewed at Movie-Con III (Updated with Images)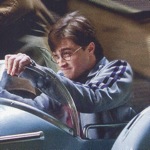 Aug 14, 2010
Dan Radcliffe (Harry Potter) was interviewed at Movie-Con III, where he discussed, among other topics, finishing filming "Deathly Hallows":



Are you done?
"Yes, we finished. I promised
myself it wouldn't end on green screen but inevitably it did. The last
shot was us jumping through the screen onto a mat.
Were you in bits?
"Not
then but afterwards. I've never seen Rupert Grint cry before; it was
weird. It was like seeing your Dad cry. But now we're on to new things
and I'm looking forward to the future. I'm very excited about The Woman
In Black. I think James (Watkins) is great; he's going to be the next
Chris Nolan I think."
In addition Radcliffe talks about his experience of watching the earlier Harry Potter movies:

Have you watched the films on DVD?
"I do, but I
rarely watch them. I have two friends ' just two! ' and one wants me to
play the Lego Harry potter game with him, and the other wants me to give
him an uncensored commentary with them sometime."
So a Potter-thon?
"No!
I do get really embarrassed watching the early one. I was talking to
Emma on set once on set and saying how bad we were, and we were on mike,
and suddenly I heard Mike Newell [director of "Goblet of Fire"] shout, "You got it because you were
both BLOODY ADORABLE".
Radcliffe also goes on to talk about what role he would want to play if Harry Potter were remade 30 or 50 years from now, the experience of filming "Deathly Hallows," and the helpful direction of David Yates, who has been the director of the Harry Potter movies since "Order of the Phoenix."
In addition, there was a clip
shown at Movie-Con III, and a description of the clip is at the end of the
interview:
Then we saw an action-packed bit of footage, with a few
fresh snippets that weren't in the trailer: six of Harry's friends turning into
Polyjuice Potion doppelgangers to get him safely out of the Dursley's home; the
attack on Fleur and Bill's wedding reception; Harry and Ron fighting in the
tent when they're on the run and Voldemort heading up a council of Death Eaters
at Malfoy Manor. And then lots and lots of intense action, including an
extended look at the run through the woods with Death Eaters in close pursuit.
OMG it totally looks awesome.

As of now there is no video of this clip online. You can read the rest of the
article here.
Update: You can now see pictures of Dan Radcliffe attending Movie-Con III here in our Image Galleries.