Leaky's Daily Quotedown to Deathly Hallows: 88 Days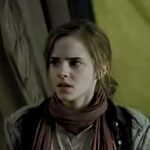 Aug 22, 2010
Today, after yesterday's big news, we have another double quotedown for you! There are now only 88 days left until "Harry Potter and the Deathly Hallows: Part I" hits theaters! We are posting a quote from the first half of the book every day in celebration and to give us a chance to discuss and ponder the final book as it goes to film. Here are quotes for both yesterday and today!

"Harry Potter," he squeaked in the tiniest quiver of a voice, "Dobby has come to rescue you."
Harry Potter and the Deathly Hallows, "Malfoy Manor"

"A wand was taken from you upon your arrival at the Ministry today, Mrs. Cattermole," Umbridge was saying. "Eight-and-three-quarter inches, cherry, unicorn-hair core. Do you recognize that description?"
Mrs. Cattermole nodded, mopping her eyes on her sleeve.
"Could you please tell us from which witch or wizard you took that wand?"
Harry Potter and the Deathly Hallows, "The Muggle-Born Registration Commission"