Felton, Rankin and Lewis to Attend 2010 Magic Christmas Convention in France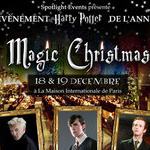 Aug 30, 2010
Tom Felton (Draco Malfoy), Chris Rankin (Percy Weasley) and Matt Lewis (Neville Longbottom) are among the Harry Potter actors who will attend the Magic Christmas Harry Potter convention in Paris, France. The convention takes place on the 18th and 19th of December this year at La Maison Internationale.
Guests will have the chance to attend talk sessions with speakers who worked on the Harry Potter films as well as a number of the actors. Attendees will also be able to meet the special guests during photoshoot and autograph sessions. Games, contests, magic shows, an orchestra playing music from the films and a Christmas Ball will also feature over the weekend.
Tickets are now on sale at this link via SpotLight Events; three differently priced tickets can be purchased, with prices starting at €55 for the Squib Pass, €140 for the Wizard Pass and €200 for the Order of Merlin Pass. You can find the Facebook page for the Magic Christmas convention right here.