Matt Lewis to Appear at National Railway Museum York's Wizard Weekend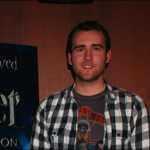 Aug 09, 2010
The National Railway Museum (NRM) in York, UK is holding a Wizard Weekend event this Saturday and Sunday, the 14th and 15th of August. At this special event, cab access to Olton Hall, the steam engine used as the Hogwarts Express in the Harry Potter films, will be free, allowing attendees to have photos taken of them as they pretend to drive the train. The event description also promises "special performances" from mischievous wizards at 11.15am and 3.15pm. Owls from the Birds of Prey and Conservation Centre at Sion Hill Hall will also be at the event between 10am and 5pm.
On Sunday, 15th August, Matt Lewis (Neville Longbottom) will be signing autographs at the National Railway Museum from 11-12.00 and 12.30-1.30pm. Additionally, anyone able to get to the Museum for 10am on the Sunday can enter a competition to win a face-to-face interview with Lewis; more details on how to enter, as well as the full terms and conditions, can be found here on the NRM website.
According to the website, the event is free and suitable for all ages.
Many thanks, Tom, for emailing in!