"Deathly Hallows: Part 1″ Stills, Preview in October Issue of Empire Magazine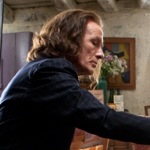 Sep 01, 2010
The October issue of Empire magazine is set to have an expanded preview on the upcoming "Harry Potter and the Deathly Hallows: Part One" film, according to new information released regarding the upcoming issue. Empire has also given us a first look at the cover of the issue, which features actor Dan Radcliffe (Harry Potter) on the cover. This image can be found in our Image Galleries via this link. In addition to this, the magazine has posted two new stills from the film; the first of Lupin (actor David Thewlis) and Harry at the Weasley House and, the second, of Rufus Scrimgeour (Bill Nighy) handing Harry the golden snitch. A fourth and final image has been released of a battered Harry Potter; this image can be seen here.
The magazine says this of the upcoming preview:

The boy wizard is headed towards a final confrontation with He Who Must Not Be Named as Harry Potter and the Deathly Hallows, Part 1, nears release. We talked to the central three castmembers – Daniel Radcliffe, Rupert Grint and Emma Watson – to profile how they're dealing with the end of an era, and a shoot that's lasted well over a year. But there's also news on what you can expect from the King's Cross scene, how much damage Hogwarts will sustain and why it's the emotional stuff that's really going to get you this time.
The issue should be on newsstands shortly.
Many thanks to J.P. and Tracy!