Leaky's Daily Quotedown to Deathly Hallows: 68 Days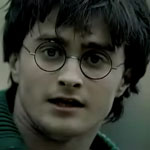 Sep 13, 2010
There are now only 68 days left until "Harry Potter and the Deathly Hallows: Part I" hits theaters! We are posting a quote from the first half of the book every day in celebration and to give us a chance to discuss and ponder the final book as it goes to film. Here is today's quote!

"Remove this foul addition at once! Remove it, I say! You are ruining a great work of art! Where am I? What is going on?"
"Never mind where we are," said Harry, and Phineas Nigellus froze, abandoning his attempts to peel off the painted blindfold.
"Can that possibly be the voice of the elusive Mr. Potter?"
Harry Potter and the Deathly Hallows, "The Goblin's Revenge"